Both our iOS and Android applications are Chromecast-enabled, which will allow you to display your workouts onto the screen by following these steps:
Select a workout and begin playing the video.

In the top-right corner of your device's screen, you will find the Chromecast icon (shown circled in red below)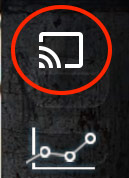 Tap the icon to begin casting to your TV or display.
To disconnect Chromecast, you'll need to tap the Chromecast icon again and press Stop Casting.
Casting to a Chromecast-Compatible TV (Android Only)
Select TVs and displays already have Google Chromecast built into them - follow this link to see which TVs offer Chromecast compatibility.       
What If My TV Isn't Chromecast-Compatible?
If you do not have a TV with Chromecast built-in, you can purchase a Chromecast dongle by visiting the Google online store's Chromecast page. Google's online store currently offers the 2nd Gen. version of the Chromecast at $35, and can be ordered by following this URL: https://store.google.com/product/chromecast_2015
The Chromecast device's technical specifications can be viewed here: https://store.google.com/product/chromecast_2015_specs
Please note that the Chromecast dongle is compatible with iPhone, iPad, Android (phone and tablet), Mac, Windows and Chromebook.