Depending on which device you have, you may be able to connect your mobile phone or tablet to your TV with an HDMI adapter or cable. Phone manufacturers, such as Samsung and Apple, as well as third-party companies offer these accessories and in general the setup process will be covered in the product's owners manual. Generally, the differences between the adapter and the micro USB to  HDMI cable are as follows:
HDMI Adapter
Connect the adapter to the phone or tablet's micro USB port, then connect the HDMI cable running from your TV or display to the adapter's HDMI port.
Mobile USB to HDMI Cable Adapter (Android)
To connect your phone with your TV or display with a (micro) USB to HDMI cable adapter, start by plugging the cable into your phone's USB port (in this example, a micro USB plug is used). Next, connect the adapter to the TV's HDMI port, before completing the process by connecting the USB plug into a power source. Some adapters may require a third party app, such as EZCast, to be installed on your mobile device before you can successfully mirror to your TV or display, so it's important that you follow the instructions included with your adapter to check for software requirements.
Apple® Lightning to Digital AV Adapter (iOS Only)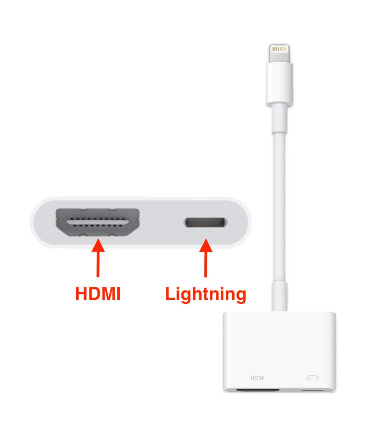 For iOS users, a digital AV adapter is a simple way to mirror your workouts. After following the manufacturer's instructions, you should be able to plug your adapter into your iOS device and connect to your TV or monitor via an HDMI cable, with a second lightning cable connected to a power source to charge the device.
NOTE: While Apple devices running iOS version 10 should still be able to use third-party iOS-compatible adapters, devices running iOS 11.4 or newer will require an official Apple adapter to stream both audio and video.